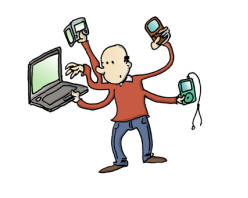 The digital"dematerialisation" of content presents great opportunities for Europe, but also a number of challenges. First of all, obstacles still stand in the way of digital distribution of cultural products and services. In addition, illegal downloads on a large scale can jeopardize the development of an economically viable single market for digital content. Finally, there needs to be much more encouragement for legal cross-border offers. The consultation paper outlines the existing challenges for three groups of stakeholders – rightholders, consumers and commercial users – in order to start a reflection on possible European responses.
With this public consultation the Commission's services wish to launch a wide-ranging debate on how to develop vibrant online markets for goods and services protected by intellectual property rights. The consultation addresses the role of legal online markets and explores a variety of copyright management models that may induce a more rapid development of such markets.
All interested parties are invited to comment on the ideas raised in this reflection paper, and in particular on the "Possible Actions" outlined in Chapter 5 by
- 5 January 2010 -
in electronic format. All submissions will be published on the Commission's website unless otherwise requested. Confidential contributions should be clearly labelled at the top of the first page. Should you want to add a cover letter please do so in a separate document. In case your comments exceed four pages, please provide an executive summary.

Consultation paper:
Creative Content in a European Digital Single Market: Challenges for the Future



A Reflection Document of DG INFSO and DG MARKT